Cherish the skin you're in.
Just leave everyday life behind you and treat yourself to a bit of time out, in which your skin receives full attention. Relax with a soothing yet effective facial treatment in an exclusive ambiance at Jerrianne Ritter Aesthetics studio in the heart of Garmisch-Partenkirchen. Here you will find an oasis for well-being and relaxation where your skin is  cared for.
At Jerrianne Ritter Aesthetics, you will find an extensive selection of treatments. Bring your outer and inner beauty into harmony with a treatment, learn to better understand your skin profile with a skin analysis, or give your eyelashes & eyebrows a new boost.
Your comfort and skin's health are a matter close to my heart. All treatments will be tailored to your individual skin type and needs, as each person and each skin is unique!
 Skincare is skin health. With a facial treatment, you can do something good for yourself and your skin in the long term.
Observ 520x Hautanalyse
A revolutionary journey beneath the surface of the skin
30 minutes | 70,00 EUR
What is a skin analysis?
The Observ 520x provides first-time customers with a comprehensive skin analysis, through which one can perform a consultation at a deeper level and understand the skin profile better. This analysis visualizes the features in different levels of the skin.
Analyzing the actual skin condition with the Observ 520x begins with a unique journey through the different layers of the skin. Thanks to its various patented LEDs and filters, the Observ 520x provides a comprehensive skin assessment and a clear understanding of your individual skin condition, including problems that lie in the deeper layers of the skin that only become visible to the naked eye over time.
Who is the skin analysis for?
The Observ 520x skin analyzer is particularly great for first-time customers and customers who want to gain a better understanding of their skin condition.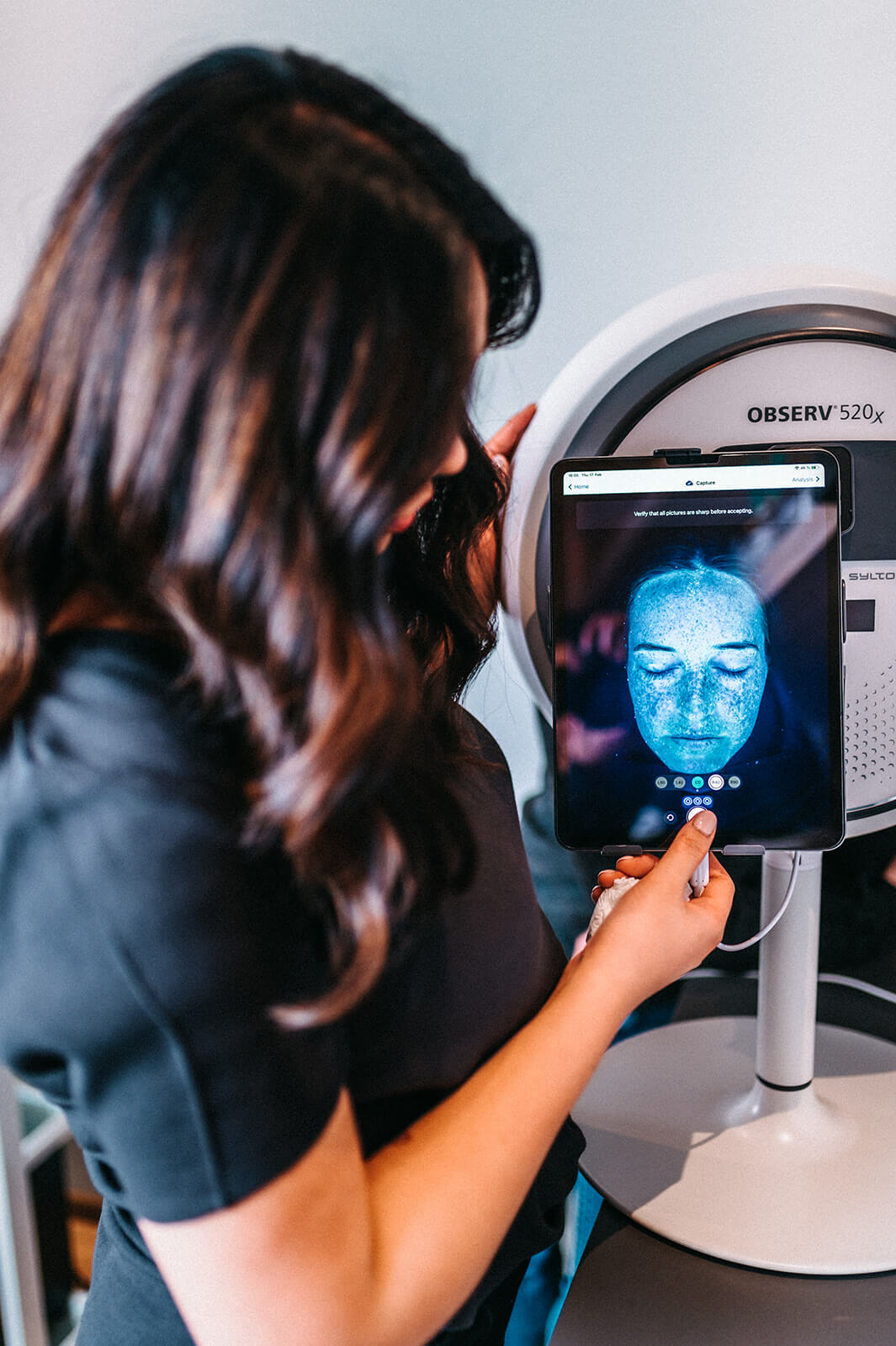 Facials / Cosmetic treatments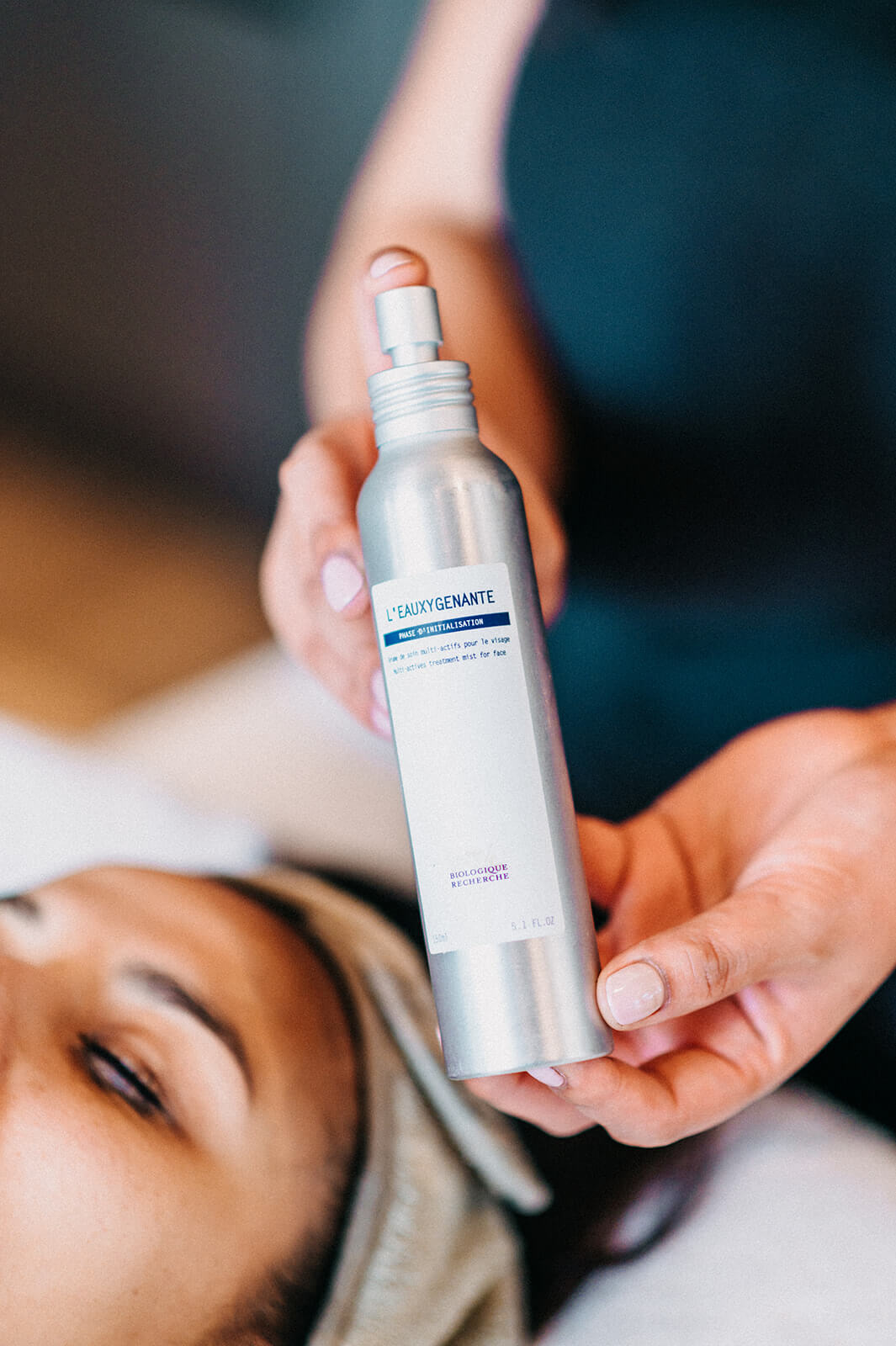 Biologique Recherche
For a wonderfully luxurious pampering experience
60 minutes | 160,00 EUR
What is Biologique Recherche?
Biologique Recherche is an exclusive French luxury brand renowned for its amazing efficacy and wonderfully luxurious pampering experience. Biologique Recherche's methodology is based on over 40 years of experience with innovative products in harmony with unique and meticulous protocols adapted to individual skin instants.
Biologique Recherche facials include unique massage techniques designed to strengthen, lift and tighten facial structure and prepare skin for deeper penetration of products.
The products are raw, cold formulated with high concentrations of active ingredients derived from the purest natural, marine, and biotechnological and are free of artificial fragrances, parabens, and silicone. Biologique Recherche is a brand known for its cult classic, the P50 Lotion. 
What is the procedure of a facial treatment with Biologique Recherche? <br />
IS CLINICAL®
Nourishes and improves any skin complexion
30 minutes | 85,00 EUR
60 minutes | 145,00 EUR
 
What is IS CLINICAL®?
IS CLINICAL® is a luxurious and exclusive skincare brand developed in Hollywood by biochemists and dermatologists. They have created a versatile skin care solution that bridges the gap between cosmetics and science.
IS CLINICAL® skin care products help improve the appearance of the skin and provide it with nutrients, targeting both normal skin and problematic skin, such as acne, rosacea, and other highly stressed skin.
IS CLINICAL products are made exclusively from the most potent and purest extracted natural botanical ingredients of pharmaceutical quality.
Who is IS CLINICAL® for?
The focus of a facial treatment with IS CLINICAL® is to take care of various skin conditions:
Acne
Rosacea
Aged skin, to slow down signs of Aging
Hyperpigmentation
Post- and pre-laser for surgical treatments
Heavily stressed skin, e.g. after chemotherapies or radiation treatments.
What IS CLINICAL® treatments are available?
FIRE AND ICE FACIAL
Also known as Hollywood's "Red Carpet Facial", is a medically active treatment designed to quickly and safely renew the skin's surface, reducing fine lines and wrinkles while smoothing and nourishing the skin and stimulating cell renewal. This facial is also excellent for blemished and acne-prone skin.
FOAMING ENZYME FACIAL
Effective yet gentle, FOAMING ENZYME TREATMENT FACIAL, also known as the "Champagne Facial," combines papaya and pineapple enzymes with a highly effective clinical-grade glycolic acid. This professional treatment creates a luxurious lather while bioactive ingredients effectively exfoliate and deeply cleanse pores to reveal a polished, healthy and radiant complexion.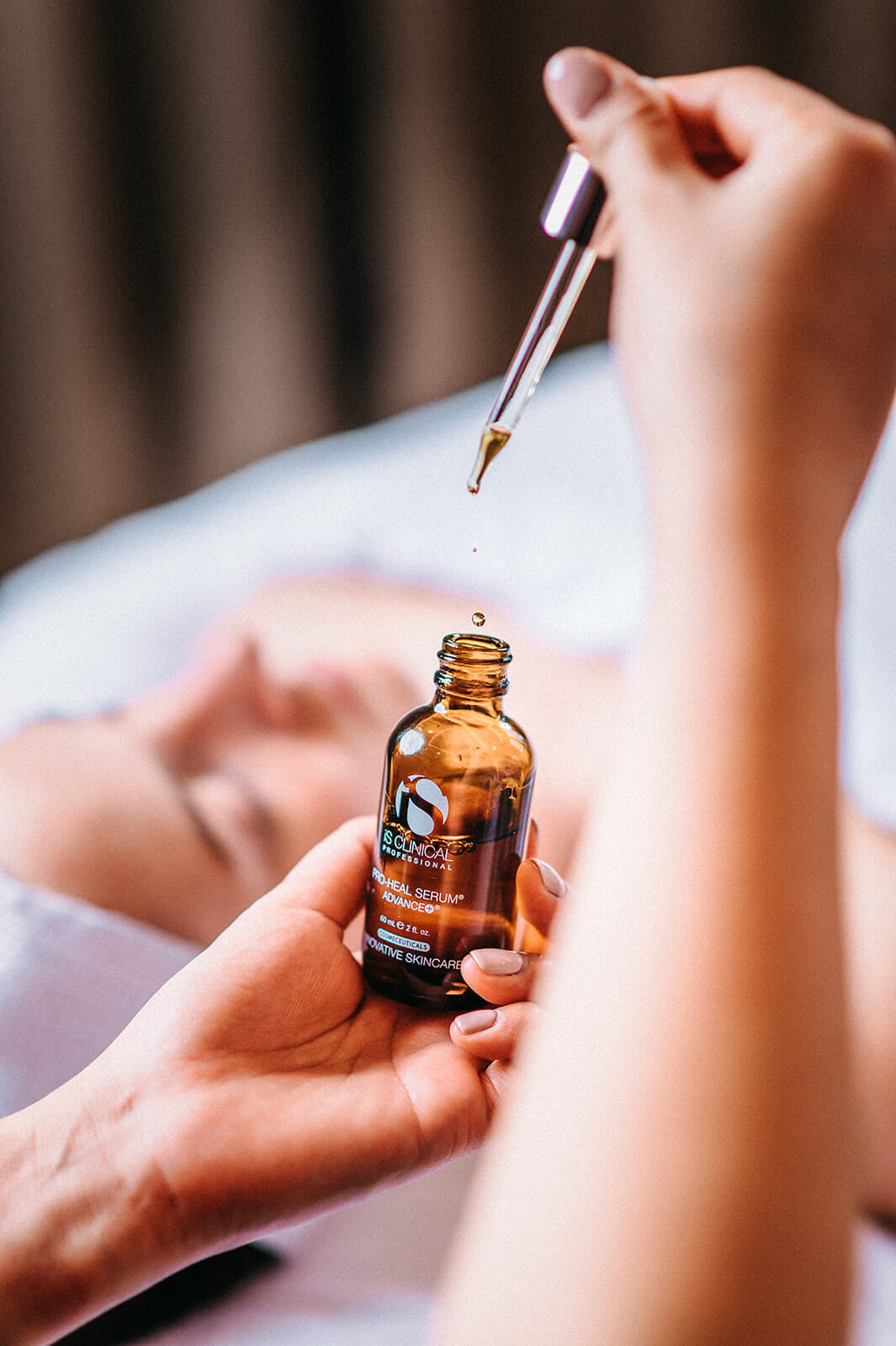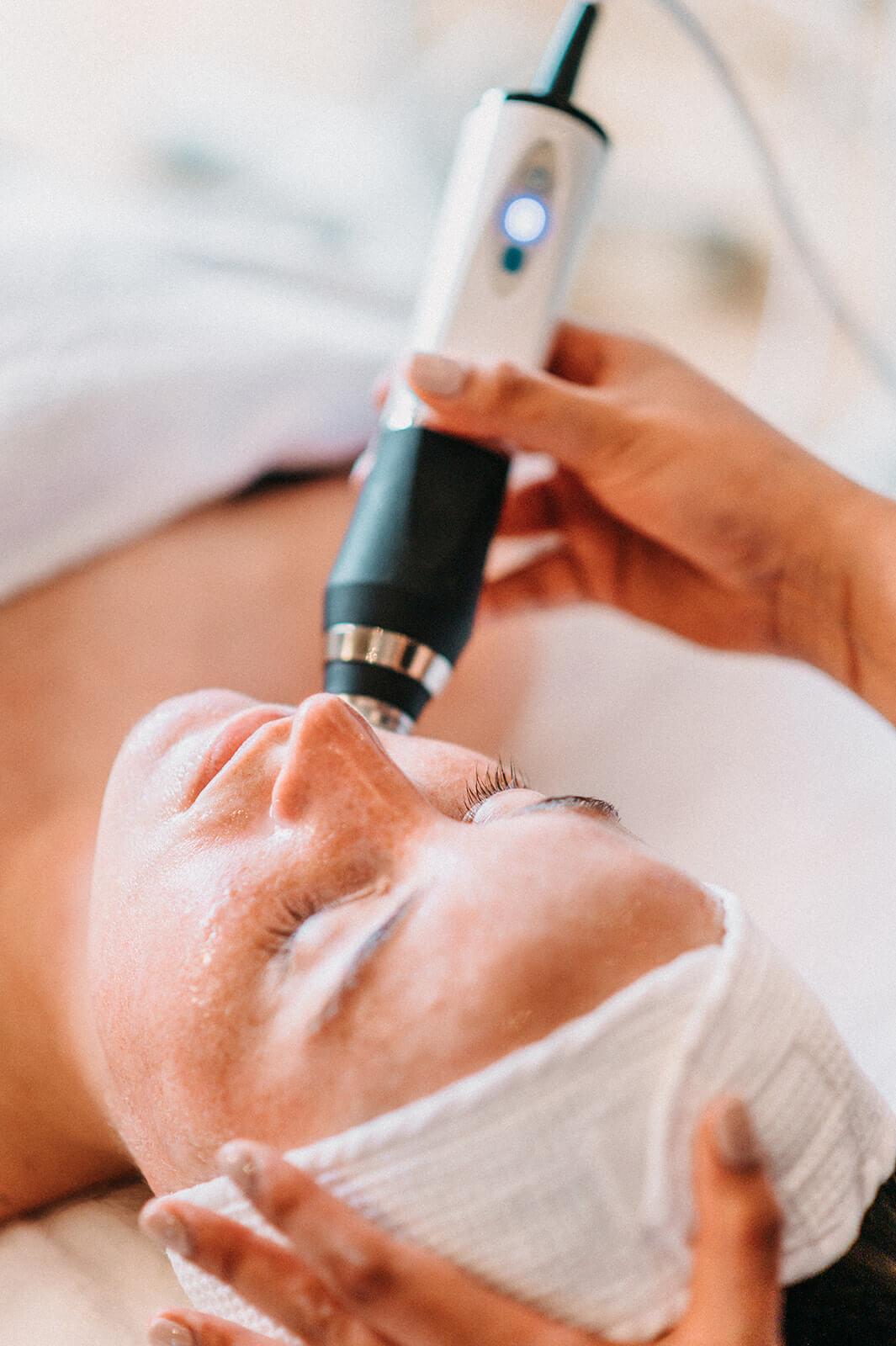 OxyGeneo™ Treatment
Exfoliates, oxygenates, nourishes and tones the skin
60 minutes | 170,00 EUR
75 minutes | 210,00 EUR
What is OxyGeneo™?
OxyGeneo™ offers a unique approach to facial treatments by using our body's natural process to oxygenate the skin from within. It is the only device on the market that offers a unique combination of advanced innovative technologies such as Oxygeneo, Tripollar Radio Frequency and Ultrasound. This amazing treatment exfoliates, oxygenates, nourishes and tightens the skin.
For whom is an OxyGeneo™ facial treatment ideal?
An OxyGeneo™ facial is suitable for those who wish to benefit from the following advantages of the:
Plumps, moisturizes and brightens the skin
Minimizes the appearance of pores
Clears clogged pores
Improves skin tone and texture
Reduces hyperpigmentation
Oxygenates the skin from the inside out
Stimulates skin renewal
Immediate and visible results in just 1 treatment
Helps reduce fine lines and wrinkles
Firmer skin
Hydrated skin
Microneedling with Skinpen
The state-of-the-art  treatment and the first FDA approved Microneedling device. 
60 minutes | 240,00 EUR
What is Microneedling?
Microneedling, also called "collagen induction therapy" (CIT), creates thousands of controlled microchannels in the skin that harness the body's natural wound healing process to rebuild tissue while minimizing cellular damage.
Skinpen's state-of-the-art anti-aging treatment promotes tissue remodeling, resulting in a dramatic improvement in the appearance of skin tone and texture. It stimulates the body's natural ability to heal and repair itself, boosting collagen and elastin production and rejuvenating the skin from the inside out with
For whom is microneedling suitable?
Microneedling is particularly suitable for those who want:
Improvement of fine lines and wrinkles on the face and neck

Correction of acne scars

Minimizing pore size

Improvement of skin texture

Combating stubborn hyperpigmentation and melasma

Firming and tightening of the skin

General skin rejuvenation
The process of healing
1ST PHASE
INFLAMMATION
Skinpen's Micro punctures on the skin cause your immune system to cleanse the wound, remove debris, increase blood flow, and form new tissue.
2ND PHASE
PROLIFERATION
The micro-channels created by SkinPen are rebuilt with new granulation cells that are part of the extracellular matrix. In addition, a new network of blood vessels develops.
3RD PHASE
REMODELING
The wound is replaced with new skin tissues and blood vessels comprised of rich collagen and elastin proteins.
What to expect after microneedling
Results may be visible after just one treatment, but depending on the client's goals, a series of 3-6 treatments spaced 4-6 weeks apart may be required to achieve optimal success.

A detailed consultation will determine if the client is the right candidate for the treatment.

SkinPen treatment may cause mild discomfort during and after treatment. We may use a numbing cream to minimize discomfort.

After the procedure, minimal side effects may occur. Immediately after the procedure, the face will appear slightly pink to red, similar to a mild sunburn. This subsides within 24-48 hours. Some general effects may occur, such as dryness, rough skin, tightness, redness, itching, peeling, discomfort, tenderness, and mild burning. These symptoms subside over time without further complications.

After the procedure, a soothing aftercare is provided.
What you need to pay attention to after treatment
After the treatment you should pay attention to the following points:
Even if it is hard, but avoid touching your face.
Sweaty sports, sun exposure and sauna are prohibited for 72 hours after the treatment.
Avoid prolonged exposure to the sun and always use sunscreen to avoid sun damage. It is advisable to apply sunscreen every two hours if you are going to be in the sun for a long time.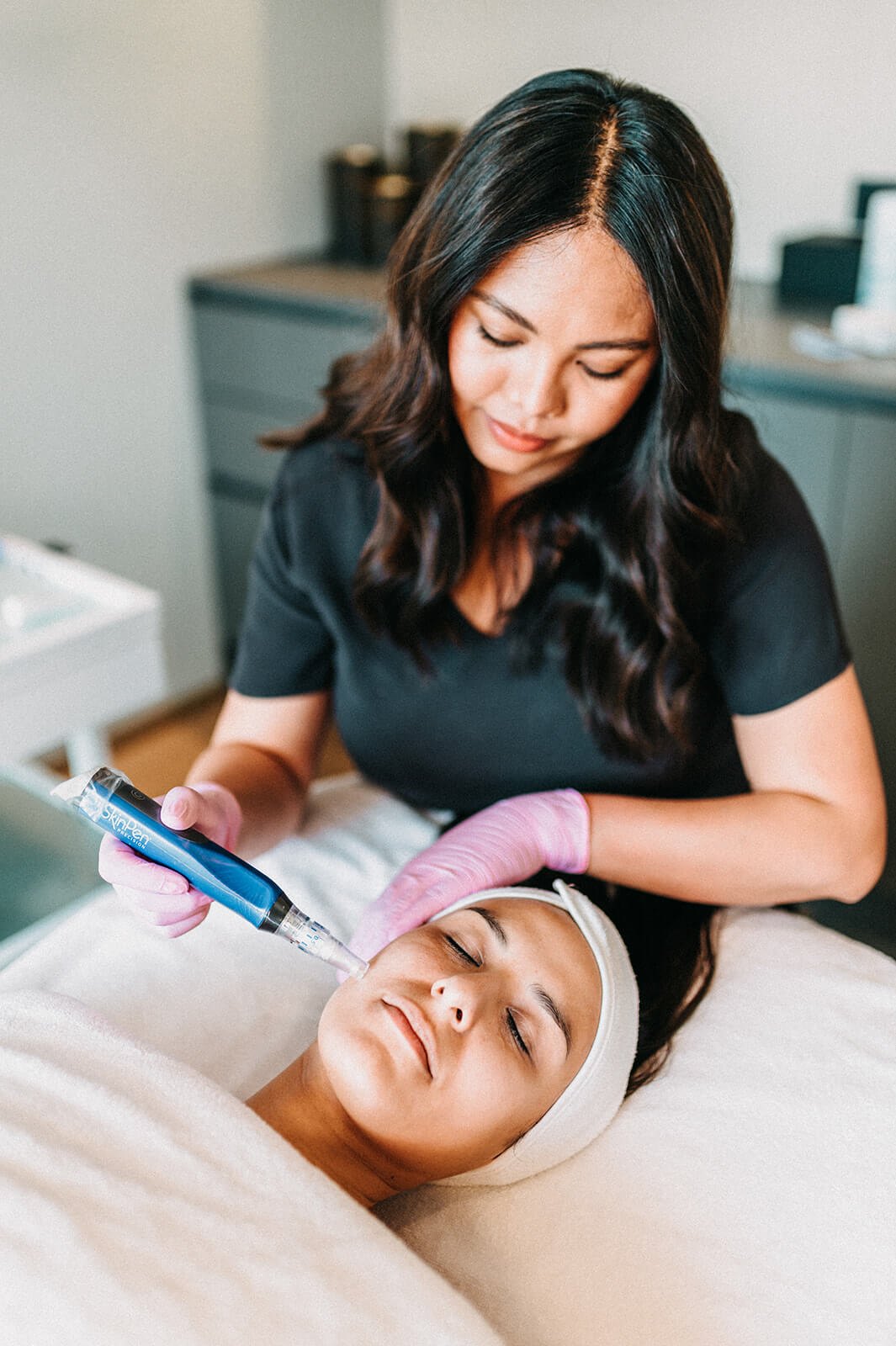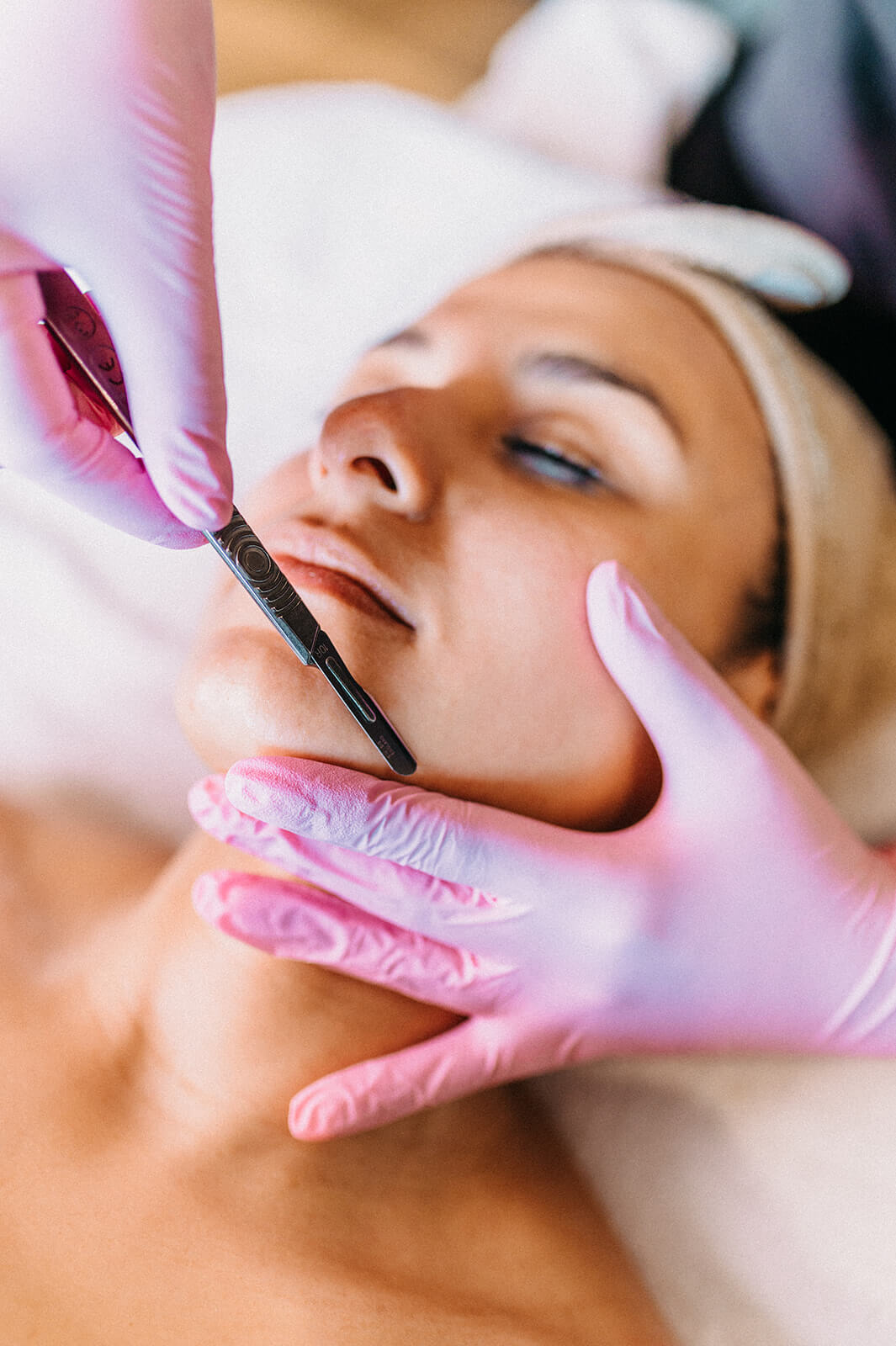 Dermaplaning
The skin looks fresher & smoother with a radiant glow
30 minutes | 80,00 EUR
60 minutes | 140,00 EUR
What is a dermaplaning facial?
Dermaplaning is a facial treatment that uses a sterile surgical scalpel to effectively and safely exfoliate dead skin cells and remove vellus hairs where oil and dirt can accumulate.
It promotes deeper penetration of products and enhances the effects of skincare products, leaving skin looking fresher, smoother, and glowing.
This treatment is gentle but results in deeper exfoliation than microdermabrasion. Dermaplaning can be booked individually or in combination with other facial treatments.
For whom is the Dermaplaning facial treatment?
Dermaplaning is not recommended for those who suffer from skin sensitivity such as rosacea, psoriasis, eczema, and active acne, as it can worsen the skin condition.
Advantages of dermaplaning facial treatment?
Facial shaving with a scalpel helps to significantly improve the appearance of the skin:
immediate result
removes fine facial hairs that trap dirt and oil
removes dead skin cells
skin feels smoother and softer
more penetration of the product
it does not cause trauma to the skin
reduces acne scars
helps reduce post-inflammatory hyperpigmentation
reduces the appearance of fine lines
improves skin tone and texture
make-up can be applied smoother and more evenly
How often is dermaplaning treatment necessary?
Depending on the hair growth, dermaplaning treatment is recommended every three to four weeks.
It is important to give the skin enough time in between treatments to allow the skin to regenerate.
Image Designer Peel
Beautiful skin begins with healthy skin
30 minutes | 80,00 EUR
60 minutes | 140,00 EUR
What is an IMAGE Skincare?
IMAGE Designer Peel is a treatment using the products of IMAGE Skincare, a clinical skin care brand based on proven ingredients and intelligent botanicals. All products are free of parabens, mineral oils, chemical preservatives and developed without the use of animal testing.
IMAGE Skincare pioneers clean clinical skincare with naturally effective and mindful formulas that deliver real results.
IMAGE Skincare products are designed by doctors and tested by a team of professionals, so you can feel confident in your skincare – and your skin.
What is the IMAGE Designer Peel?
The IMAGE Designer Peel is a facial peel that is customized to the specific needs of your skin.
With the "Clinical Couture Designer Peels" IMAGE Skinacare has created a wide range of peels that can be customized to your skin type. From enzyme peels to high-level AHA/BHA chemical peels, there is a peel for every skin type.
These signature IMAGE facials are best complemented with daily home care products to achieve and maintain excellent results.
For whom is an IMAGE Designer peel ideal?
IMAGE Skincare products were developed by doctors and a small team of experienced scientists and is THE remedy in the battle against
skin aging
pigmentary shifts
acne
rosacea
and other skin problems
The special peelings refine the skin's appearance in the long term, actively stimulate the metabolism and visibly improve the skin's appearance.
What can I expect from a peeling with IMAGE Skincare?
When peeling with IMAGE Skincare, I first make an analysis of your skin. Then the appropriate peeling is chosen.
The applied peeling removes dead cells, giving the skin a brighter appearance. In addition, the appropriate peeling reduces fine lines, wrinkles, age spots, clogged pores and skin impurities.
Furthermore, peels with IMAGE Skincare support collagen formation and provide a visibly firmer skin appearance.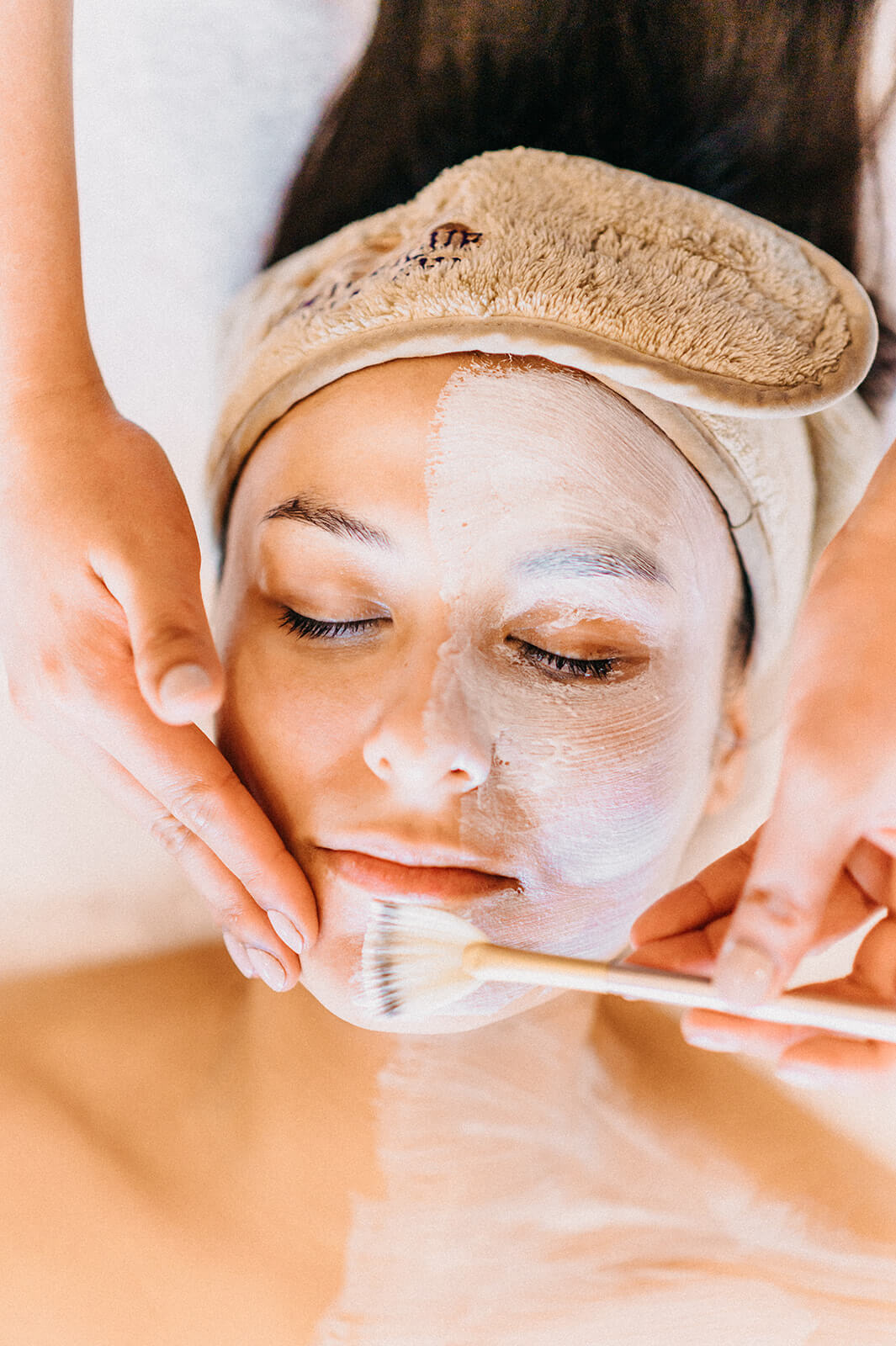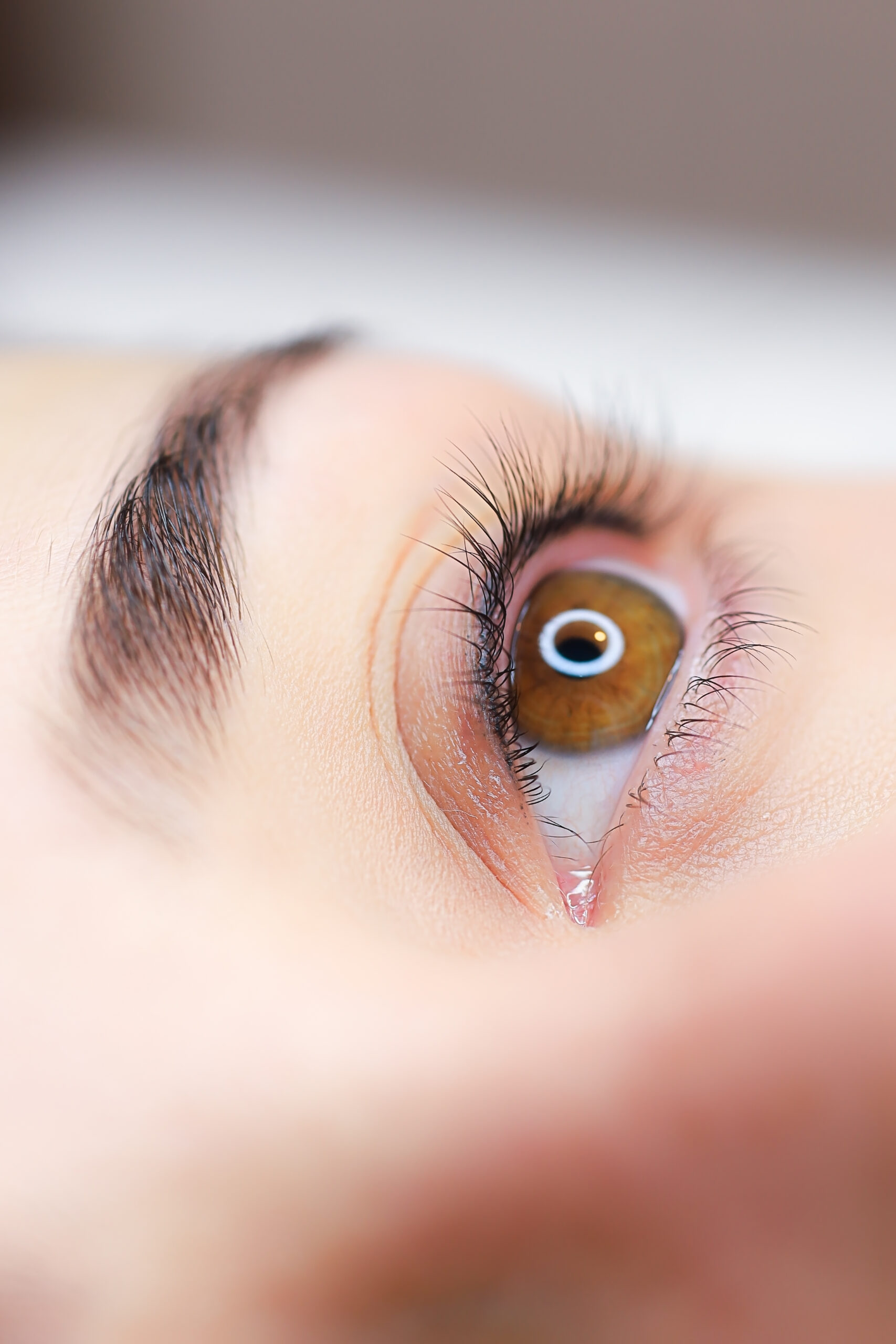 Eyelashes & Eyebrows
From lash lifting, to eyebrow lamination, to waxing & tinting.
What is lashlifting?
With YUMI Lashlifting  your eyelashes get a kind of perm, which gives your own lashes a new curl and lasts about 2 – 3 months.
At Jerrianne Ritter Aesthetics, we only use Premium quality products like YUMI Lashes. Not only does it lifts, it also nourishes , thickens and strengthens the lashes. 
Yumi Lashes is an innovative technique that safely strengthens and lifts the natural lashes from the root, even on very sensitive eyes.
Instead of a traditional perm, which simply curves the lashes, Yumi Keratin Lashes lifts the lashes upward, adding length, height, and volume. Fully customized to different lash types and textures for the best personalized results.
All Yumi Lashes products are manufactured and packaged in France.
Lashlifting with Yumi Lashes Keratin is a powerful alternative to false eyelashes that enhances the natural beauty and color of the eyelashes.
No oxidation – our products are packaged individually for each customer.

The procedure is tailored to each customer – we create a curl and dye the eyelashes multicolor High-quality ingredients (keratin, protein, serum).

The effect lasts 8-12 weeks, corresponding to eyelashes' natural life cycle.

The treatment lasts only 45 minutes and is very pleasant for the client;

Light sleep in any position or rubbing the eyes will not have a negative effect
Please note that 24-48 hours before the treatment an allergy patch test is required to rule out allergic reaction.
What is eyebrow lamination / brow lift?
Eyebrow lamination is the perfect treatment for thin, thick, unruly eyebrows that stick out downward or in different directions.
It is a safe and painless alternative to tattooing the eyebrows, as the "browlifting" brings the brows into the desired shape and provides a full and defined look that lasts about 4-6 weeks.
Please note that 24-48 hours prior to treatment, an allergy patch test is required to rule out any allergic reactions.
Prices of all treatments for eyelashes and eyebrows
Eyelash lift
99,00 EUR
Eyebrow lamination incl. wax & tinting
75,00 EUR
Dyeing of eyelashes or eyebrows
15,00 EUR
Waxing & tinting of eyebrows
30,00 EUR
Vouchers
Perfect as a small gift for your favorite person, give a personalized gift voucher.
Do you want to surprise your favorite person with an effective and soothing treatment? Then a voucher is precisely the right thing.
The vouchers are value vouchers and can therefore be redeemed depending on the voucher's worth for all treatments offered in my studio.
The vouchers can be picked up at my studio. I can also send you your voucher by mail.
If you would like to purchase a voucher, please get in touch with me by phone or via the contact form.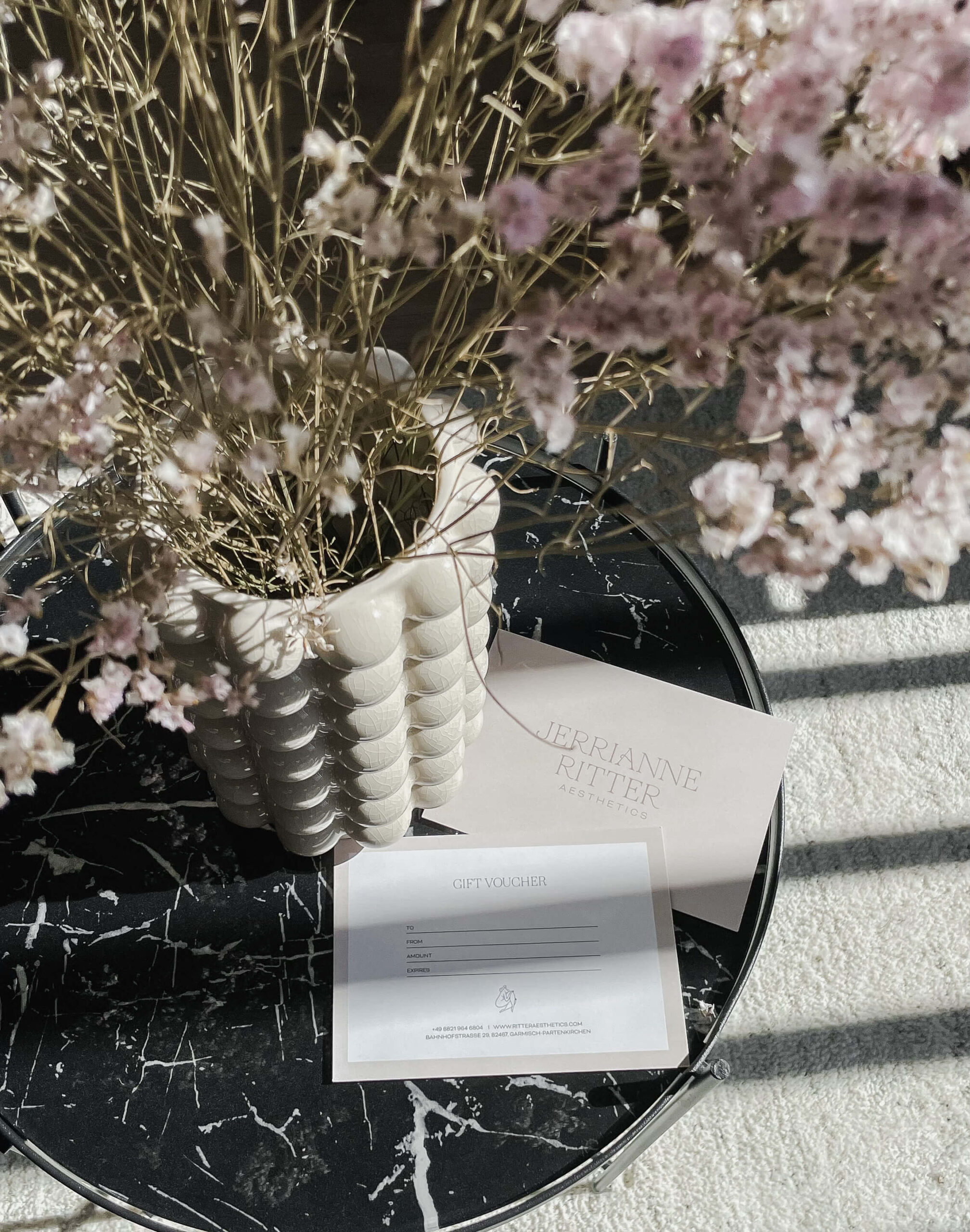 You want to book an appointment?