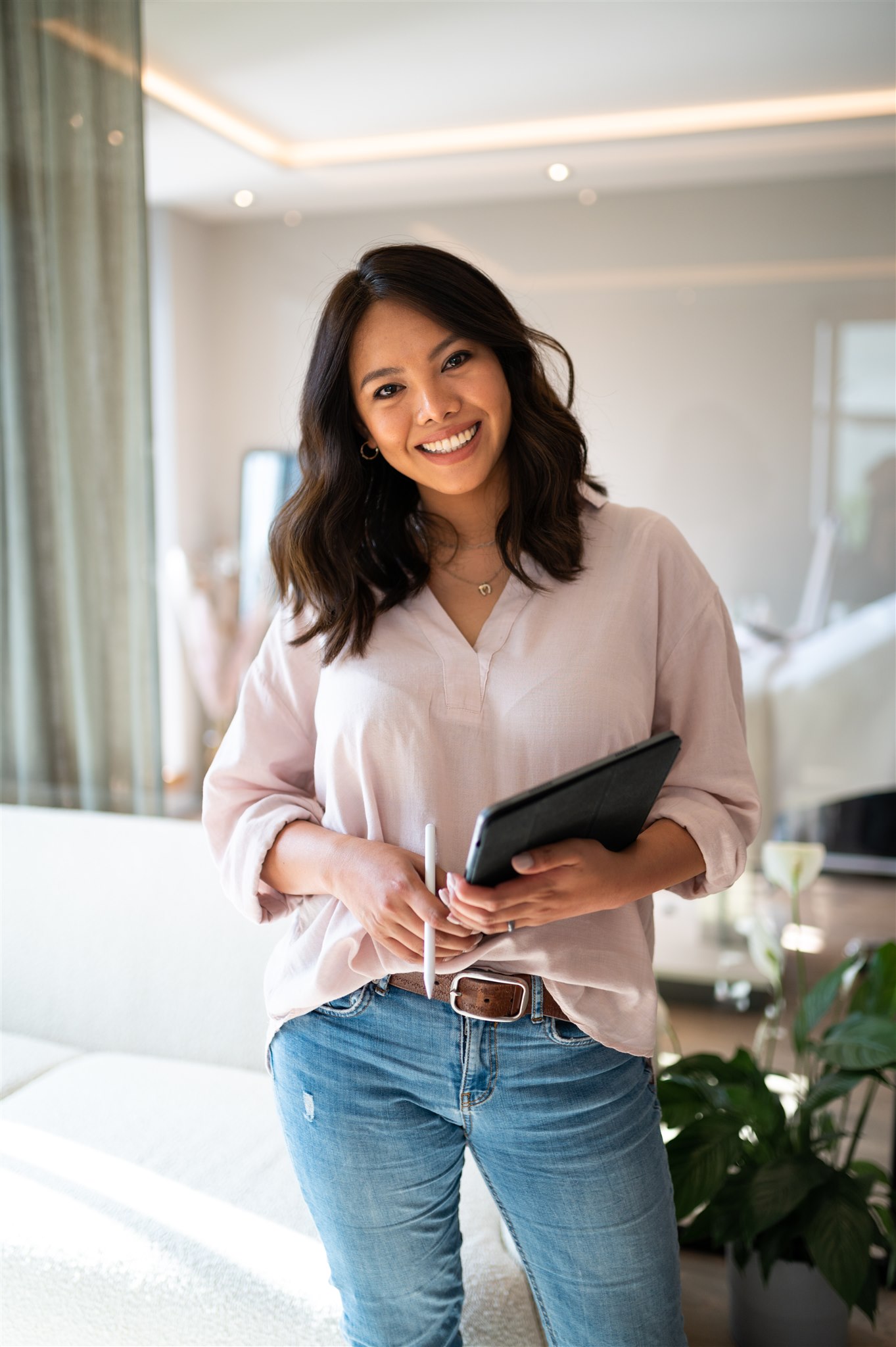 Here your skin health is a priority
While the beauty industry still tries to label people's skin and group people by similar categories, my priority is the individual differences of my clients. My cosmetic treatments are built on this principle.
What works for one person doesn't necessarily apply to another. That's why my goal is to provide a personalized holistic solution that is specific to your skin's needs. Together we will determine what causes your skin problem and develope a holistic program to manage your skin issuses.
My story
How it all started
I was born and raised in the beautiful Philippines. I am a professional singer back in the Philippines and have been singing since I was six. Initially, I studied Computer Science and worked in a large government office setting, but I quickly realized that an office job wasn't for me, so I dedicated myself to my passion, singing.
 From my teenage years on, I always participated in numerous singing competitions. And like almost every teenager, I had my share of Acne problems that didn't get any better due to all the traveling and the stress that comes with such a life. I tried seeking help, but unfortunately, regular facials and visits to the dermatologist didn't help me. At this point, I could only cover my skin imperfections by using makeup, although I knew it would not help in the long run. That is how my interest in makeup developed, and to build a foundation and expand my knowledge, I decided to train as a hair & makeup artist.
In 2017, I moved to Garmisch-Partenkirchen my second home and started working as a freelance mobile Hair & Makeup Artist in 2018 and up to this date. I help brides from around the globe realize their dream looks for their special day and did hair & makeup for different photoshoots and occasions.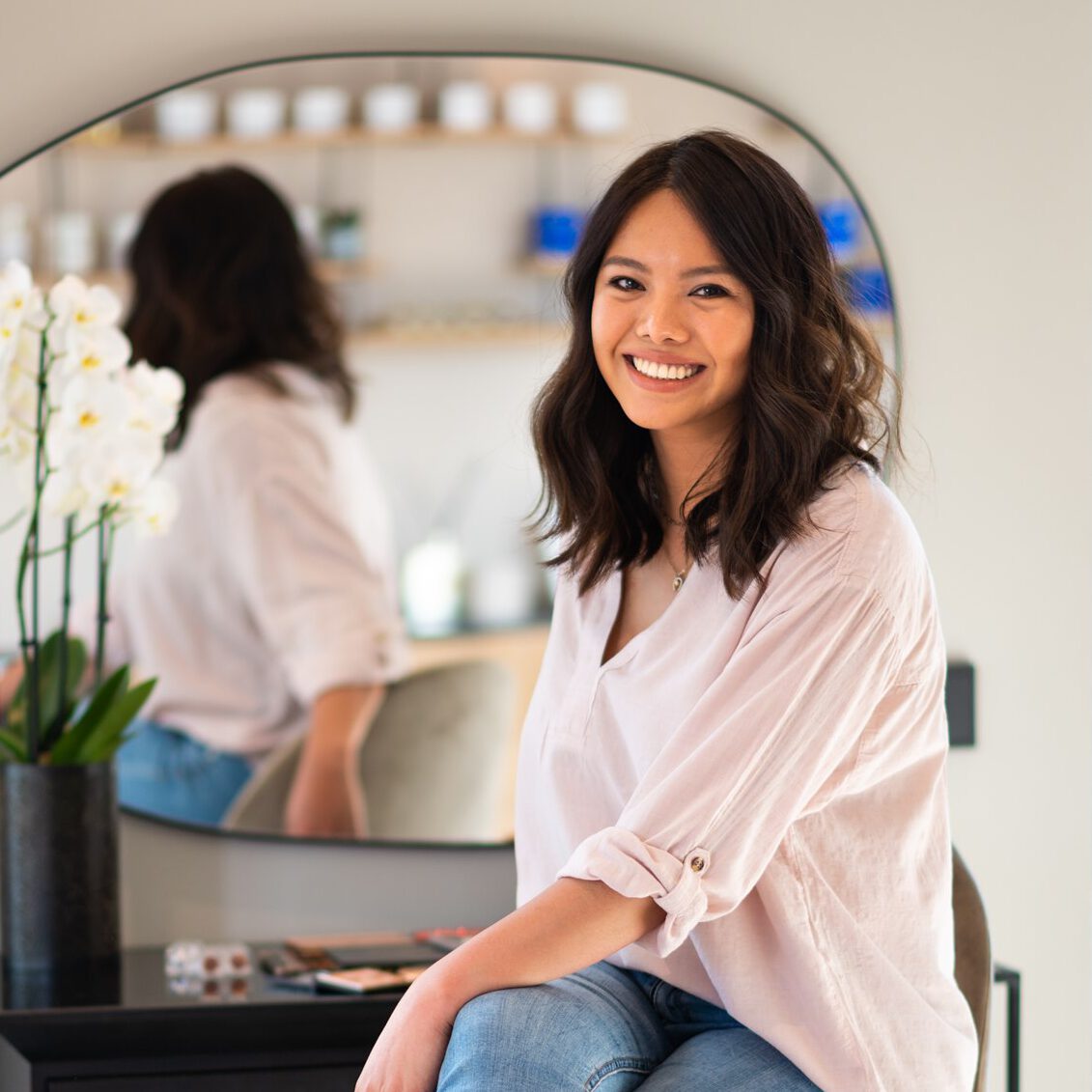 Garmisch-Partenkirchen is a beautiful mountain town, but the weather here can be harsh sometimes – especially if you're more used to a tropical climate. My skin didn't adapt well to the combination of extreme weather and hormonal problem. I did not want to tolerate that; I wanted to learn more about my skin and how I could manage my skin issues. So in 2019, in the middle of the Corona Pandemic, I went back to Cosmetic school to further my education and learn the European treatments and techniques. Here I specifically took lessons that are more focused on the skin. Gaining more knowledge about the skin inspired me to open my own Aesthetics studio in the heart of Garmisch-Partenkirchen. Since learning is a constant process, I participate in various workshops and seminars every year to further expand my knowledge and skills about skin, makeup, and hair.
Good skincare is your foundation
Products I use
I make a point of testing all the products I use in my studio on myself first. Through this, I could determine how effective the individual products are for my skin problems before I offer them to my customers.
Skin care is a commitment for me. For someone like me who has been suffering from acne for a very long time, I understand its impact on life. It is a stressful and frustrating topic and can also be expensive. 
On my journey to get to know my skin better, I have learned that acne cannot be cured but can be treated and managed successfully. Most importantly, this journey has taught me to be patient. When you want the best for your skin, you have to get involved and be consistent by getting monthly treatments, adjusting your lifestyle, eating right for your skin, exercising, and, most importantly, having the proper skincare routine at home and using SUNSCREEN every day. 
Kind words
What my customers say
"Highly recommended at any time, it was really a highlight! You immediately feel comfortable and lovingly cared for by Jerrianne. Very high quality products and very, very professional treatment."
Regina
Treatment: Fire & Ice Facial
"I was very curious about Jerrianne's new studio. She is a very conscientious young lady and I had very high expectations. These were exceeded. The neat studio is super chic with insane views. My treatment was called Oxygeneo, which combines oxygen, microdermabrasion and radio frequency. Each client gets her own specially selected pad for the machine (very hygienic) and off she goes. Afterwards: finer skin texture, less wrinkles, perfect! "
"Jerrianne Ritter Aesthetics is the new beauty lounge in Garmisch! In this unique feel-good oasis with modern, stylish furnishings, I felt like I was on a short vacation. My facial treatment with luxurious products I felt on star level! Jerrianne performs the face treatmet professionally. I felt like I was in the best hands. My skin feeling after the Foaming Enzyme Treatment Facial (Champagne Facial) was indescribable. Beauty and Selfcare by Jerrianne at its best!"
Eva
Treatment: Foaming Enzyme Facial
"The treatment with Jerrianne was an absolute experience. The great studio and Jerrianne's professional treatment are a highlight with a very high feel-good factor that everyone should treat themselves to. The result was also the absolute hammer. Absolutely recommendable! "
Alex
Treatment: Biologique Recherche Facial
"In a stylish ambience I was professionally advised and properly pampered in a pleasant atmosphere. During the competent cosmetic treatment I felt very comfortable. Pure relaxation! The result was great. The eyelash lift with wow effect. I will come again and can only recommend the studio of Jerrianne to anyone and everyone."
Gabi
Treatment: Yumi Wimpernlifting & Biologique Recherche Facial 
You want to book an appointment?